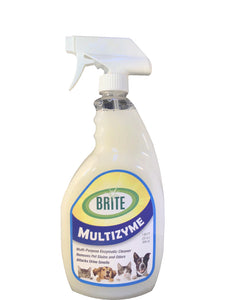 Product Description:
Brite Multizyme is a multi-purpose enzymatic cleaner and odor remover. This product uses live organisms to naturally attack odors and waste. Eliminates pet stains and odors completely and is excellent for use in bathrooms, portable toilets, septic tanks and anywhere odor is a problem.
Use On:
Pet Bedding • Carpets • Rugs • Fabric & Upholstery • Floors • Furniture • Bathrooms • Septic Tanks • Laundry Additive
Always pre-test in an inconspicuous area before using.
Directions for Use:
Odor Eliminator: Spray directly on the source of the odor. It can be used as a mist to eliminate airborne odors. May also be used to eliminate odors from fabric, carpet and upholstery.
Spot/Stain Remover: Saturate problem area with Multi-Zyme. Use a clean white cloth to blot out the product. In some cases such as pet stains, place a towel moistened with the product over the problem area to keep damp for 24 hours.
Technical Information:
14x11.25x10.63
Color: White
Odor: Pleasant scent Appearance: Cloudy pH: 7 - 8
CAUTION
KEEP OUT OF REACH OF CHILDREN.
Avoid contact with eyes. In case of eye contact, flush with water. Call a doctor if irritation occurs. Do not ingest.
If swallowed, drink 1-2 glasses of water and seek medical attention