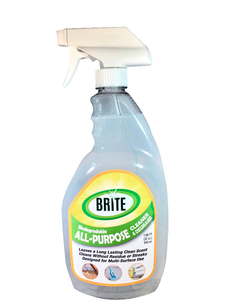 WHEN YOU BUY THE CASE YOU ARE PAYING $3.62 per ea 32oz bottle 
Product Description:
Brite Mutli-Purpose Cleaner was designed for multi-surface use, including hardwood, laminate, granite, quartz and other natural stone surfaces. Its pH-balanced formula will clean without residue or streaks and leaves a long-lasting clean scent.
Use On:
Hardwood Floors • Laminate • Granite • Quartz • Natural Stone Vinyl • Tile • Chrome • Stainless Steel • Acrylic • Formica Ceramic • Other Washable Surfaces
Always pre-test in an inconspicuous area before using.
Directions for Use:
Before using, remove debris with a broom, vacuum or dust mop.

Lightly mist on floor or surface. Wipe with a clean cloth or microfiber mop.

Rinse cloth or mop when it becomes visibly dirty.

Allow surface to air dry.
Product Size and Weight:  
27.80 lbs
14x11.25x10.63