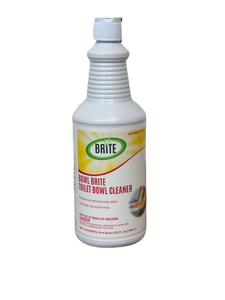 Description:  This a extremely powerful Toilet bowl and Urinal cleaner and rust remover.
USE INSIDE TOILET BOWLS, TANKS, AND URINALS ONLY.
Directions:  This product is ready to use. 
If toilet tank has heavy rust and scale build up, first, shut off water supply and flush toilet.  Apply Bowl Brite along sides of tank and let set 3-5 minutes.  Turn water supply on and flush.
If toilet or urinal has heavy encrustation use a Pumice Stick to scrub out rust and lime build up.
Using BOWL MOP, force water out of toilet bowl by pushing BOWL MOP into the drain.  Wring out excess water from BOWL MOP.  Squirt BOWL BRITE around inside and under bowl rim and onto BOWL MOP. Swab with BOWL MOP.